| Year | Events |
| --- | --- |
| 1967 | Pacific Construction Co., Ltd. was established on June 14, 1967 |
| 1975 | Prefabrication construction method was developed for constructing houses with decreased cost. This was pioneer in Taiwan. |
| 1976 | Kaohsiung Liaison Office was established |
| 1979 | Shares was allowed to issue by Taiwan Stock Exchange Corporation on December 22, 1979 |
| 1980 | Issued shares were offered for sale to the public on February 2, 1980 |
| 1982 | Singapore Subsidiary Company was established. ChengKung Public House was constructed by us. The 19-story house was completed by using an electric heating modular construction method in 68 days. |
| 1984 | Pacific Realtor was established by us. |
| | For expanding retail service, Pacific Department Store was established by us and Japan Sogo Department Store. |
| Year | Events |
| --- | --- |
| 1988 | Kaohsiung Liaison Office was changed to Kaohsiung Subsidiary Company. Taichung Subsidiary Company was established. |
| | For expanding entertainment business, Green Bay Entertainment Company was established. |
| 1989 | For expanding retail business, FongYang Enterprises Company was established |
| 1990 | Pacific Securities Company was established. Construction of Tamsui Bridge bid number 18, Second North Highway Tunnels and other constructions were constructed by us. |
| Year | Events |
| --- | --- |
| 1992 | First unsecured convertible corporate bond in the amount of NT$1.2 billion was issued |
| 1993 | First foreign unsecured corporate bond in the amount of 60 million Swiss Franc was issued |
| 1994 | For expanding entertainment business, Taifu Entertainment Company was established by us and Howard Worldhotels. |
| | First unsecured corporate bond in the amount of NT$600 million was issued |
| 1995 | ISO-9002 quality management system was certified. Second unsecured corporate bond in the amount of NT$300 million was issued. |
| 1996 | Third unsecured corporate bond in the amount of NT$1.5 billion was issued |
| | Fourth unsecured corporate bond in the amount of NT$1.5 billion was issued. |
| Year | Events |
| --- | --- |
| 1997 | For integrating department store business in China, Pacific Holding Company (China) was established. |
| | Second unsecured convertible corporate bond in the amount of NT$1 billion was issued |
| | Second foreign unsecured convertible corporate bond in the amount of US$7.5 million was issued. |
| Year | Events |
| --- | --- |
| 1998 | For expanding cable TV business, ChinYu Investment Company was established. |
| 1999 | Constructions of West Coast Highway bid number WH08, WH56 and WH60.61 |
| 2000 | Winning bids for constructing Matsu Airport and others |
| 2001 | Construction of Nanzhi Special School in Kaohsiung |
| 2002 | Constructions of Matsu Airport and bid number C337 |
| | Constructions of Matsu Airport and bid number C337 |
| Year | Events |
| --- | --- |
| 2003 | Constructions of bid number C307, KuanYin E101 and New Wudu Tunnel. |
| 2004 | For expanding entertainment business, Pacific Leisure Life Company was established. |
| 2005 | Pacific Construction Corporation was established. FuYang Investment Co., Ltd was sold to TaiGu Multimedia Co., Ltd. |
| 2006 | Constructions of bid number WH60.61 and Baoshan Reservoir |
| 2007 | Constructions of West Coast Highway bid number WH08 and WH56 and New WuJie Tunnel |
| Year | Events |
| --- | --- |
| 2008 | Constructions of Kaohsiung Great Era I and Pacific Lohas. For expanding business in city renovations, Pacific Construction Corporation was acquired. |
| 2009 | Constructions of Kaohsiung Era Villas and ChungYen I-Park Estate |
| 2010 | Construction of Pacific Fiesta I-SungLu Estate |
| 2011 | Constructions of Nankang Hill and Pacific Fiesta II-KanYi Estate. Concepts of green building were incorporated in these constructions. |
| 2012 | Construction of Pacific Fiesta III-Moon Estate |
| 2013 | Completion of the construction of SungLu Estate. Construction of Chungshan North Road-Chungshan Century Estate. |
| 2014 | Completion of the constructions of HuiShang Estate, KangYi Estate and Moon Estate of Pacific Fiesta |
| | First secured corporate bond in the amount of NT$200 million was issued |
Business Philosophy and Strategy
PCC has a long history of great achievements that have made significant Contributions to the development of Taiwan and have supported our reputation as a leader in the industry.
In 1970, the dawn of Taiwan's economic boom, PCC built the first 12-floor residential building, known as the "Champagne Building", in the East district of Taiwan, using a new construction method called the "Expansion Structure" technique. Not only did the company pioneer this new technique, but we also created the concept of having a supermarket in the same building as residential units. This new concept grew to form a new lifestyle and helped originate the development of today's "Ding Ho" commercial district.
In 1978, we again set a landmark in Taiwan's construction history by building the "Parkside Community" project using a new method called the ''Prefabricated on Site" technique. This construction technique broke through the barrier of traditional constructing methods and became a leading technique in the industry.
1979 marked another significant achievement for PCC, when we were the first to adopt an advanced constructing method called the "Electric Heating Form" technique which we used in our construction of the "Cheng-Kung" housing project. This technique significantly reduced construction time and enabled us to build the main structure of a 19 story building in only 68 days, which had never been done before in Taiwan.
In 1987, we entered a new era of growth by diversifying our business and extending into the international arena. Today, FCC's businesses include commerce, realty, leisure, securities and finance, with operations in Taiwan, Singapore, Malaysia, mainland China and the US.
From unknown to well known, we have carried out our dream piece by piece and will continue to be an important force in Taiwan's economic development.
The organization restructured with core businesses being focus and elimination of unimportant businesses can increase corporate performance and bring the company to a new era.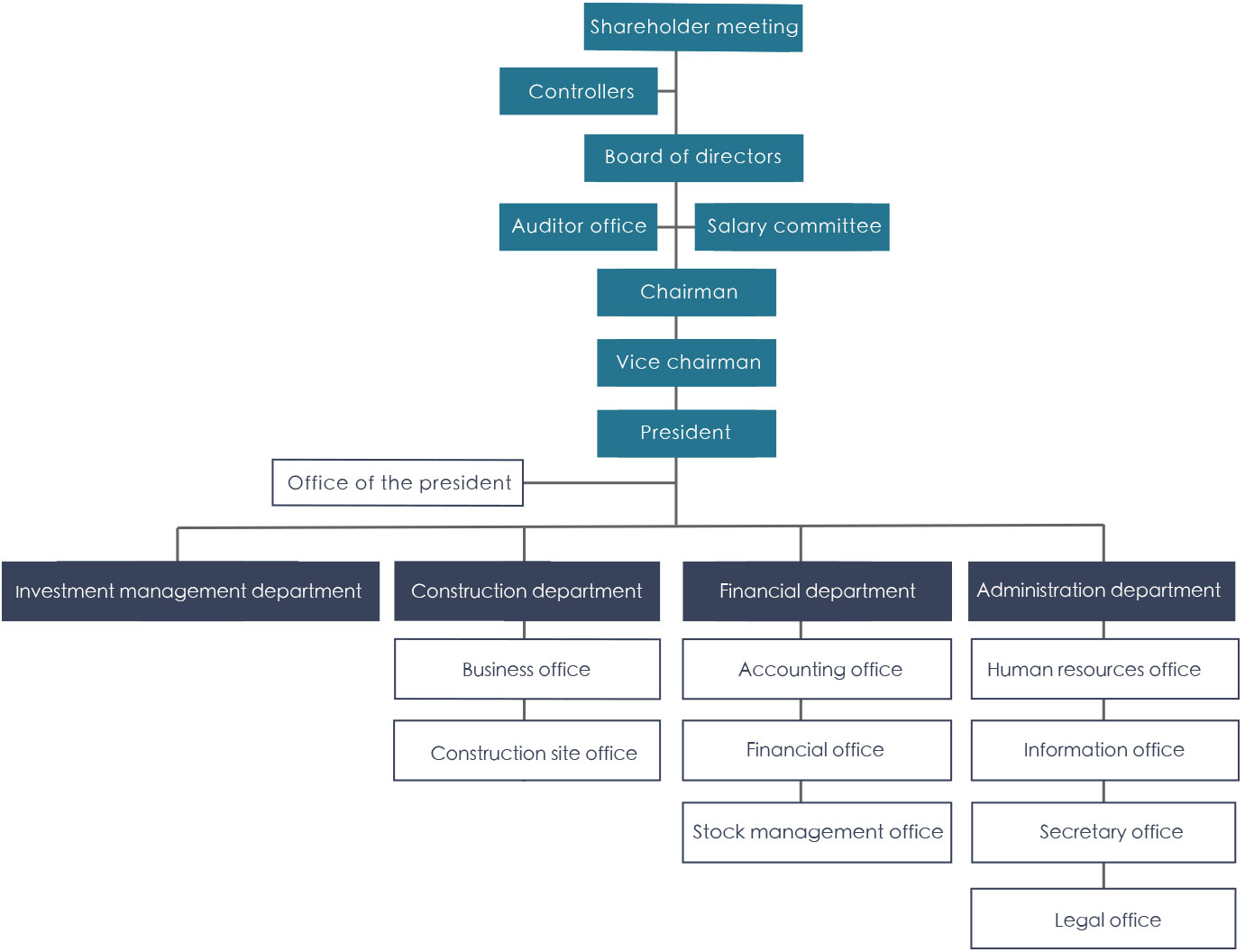 | Title | Name | Education |
| --- | --- | --- |
| president | Hong-Rong Ma | Department of civil engineering of Fein Chia University |
| Vice president of financial and administration departments | Chin-Hui Chen | Department of accounting of Tamkang University |
| Director of investment management department | Wen-Ying Chang | Master of international trade of Chengchi University |
| manager of construction and business departments | Fu-Long Hsu | MBA of Tamkang University |
| manager of construction site office | Ming-Zhuan Cheng | Department of civil engineering of Chung Yuan Christian University |
| senior manager of stock management office | Fong-Yu Cheng | Department of history of Soochow University |
| manager of accounting office | Bi-Zen Nan | Department of accounting of Tamkang Universtiy |
| manager of financial office | De-Shing Huang | Department of accounting of Ming Chuan University |
| manager of information office | Zhen-Siung Ger | Master of computer engineering of SUNY Polytechnic Institute |
1. Structure
    An auditor office is governed by board of directors of the company. The auditor office is led by an auditing manager who is in charge of internal auditing of the company. The board of directors has the right of appointing or dismissing the auditing manager. An auditor is employee by the auditing manager.
2. Operations of the internal auditing:
The auditing office is responsible for preparing an annual auditing plan, executing same, evaluating internal control, and preparing an auditing report. The above functions of the auditing offic e assist the board of directors and the president to evaluate and improve the effectiveness of risk management, control, and the governance process over a subject matter.

Audited areas include businesses, secretarial & compliance audit, internal controls, quality management, project management and controls stipulated by article 8, processing rules of internal controls of public companies.

Auditors should execute his or her duties independently, impartially and honestly. Auditors are encouraged to take continuing education in order to improve quality of auditing and performance.

For implementing self governance, coping with corporate environment changes, adjusting system of internal auditing and improving quality and efficiency, the company annually evaluates its system of internal auditing. At least one self evaluation is conducted annually by each department, each office and each subsidiary. Its reports are submitted to the board of directors and the president for evaluating performance of the current internal auditing and as a basis for preparing a statement regarding internal controls.
Good pay. Five working days per week. Education and training. Labor insurance, universal health insurance coverage and pension.


Subsidies for annual health check.

Payment for birthday. Payments for Dragon Boat Festival, Mid-Autumn Festival and Chinese New Year. Subsidies for travel. Group activities participation.


Subsidies for employee's children education. Subsidies for medical expenses.

Pacific Realtor provides the following services: house buying, house selling, house renting and real estate agent. Pacific Realtor encourages green life, improves living quality, and spreading the idea of sweet home to the general public.
Pacific Department Store is retail chain. Pacific Department Store is subsidiary of Pacific construction Co., Ltd. and was established in 2000. Pacific Department Store runs business in the fields of retail, dining and supermarket.
Pacific Sabah Department Store
Centre Point Sabah is a one-stop shopping, dinning, office, car park and amusement complex serving the State Capital.
job title
Name
Main (scholar) calendar
Currently holding the post of the company and other companies.
Chairman
Quanyuan International Development Co., Ltd.
Representative: Liu Yiyi
Fuyang media technology (stock) Company
Vice Chairman
Chairman of fuller media technology
Executive
director
Quanyuan International Development Co., Ltd.
Representative: Lei Qian
ABC radio and television network in the US
Vice president of the head office
National ticket financial holding company Independent director
Director
Yangming investment advisor (stock) Company
Representative: Zhang Qiming
Department of architecture, Culture University
Taitou Xingye Co., Ltd.
Chairman
Director
Gabriel (share) company
Representative: Zhang Minqiang
Department of civil engineering, Shanghai Qiang Hua Industrial College
No
Director
Fuyong Investment Co., Ltd.
Representative: Lai Yuexin
ITRI Electronics Management
Fuyong Investment Co., Ltd.
Chairman
Director
Taihong Xingye Co., Ltd. Representative: Zhang Qiguang
St. John's University of Technology
Mechanical Engineering
Hong Kong Pacific Construction (Y) Company
director
Director
Quanyuan International Development Co., Ltd. Representative: Yu Shengyi
Clear stone construction co. LTD. Chairman
Chairman of Daxian Construction Co., Ltd.
Independent
director
Ye Kuang Shi
Phd. of organization theory, Carnegie Mellon University
independent director, founder fubon fund management LTD
Independent
director
Lin Hao Yu
State owned Enterprise Research Institute of National Taiwan University
Bachelor of electrical engineering, National Taiwan University
Director of Haohong Capital Co., Ltd.
Director of Excellence Success Co., Ltd
Ombudsman
Yuan Tang
Master of electrical engineering, University of Waterloo, Canada
Chairman of Pacific Wire & Cable Co., Ltd.
Ombudsman
Fu-Wo International Investment Limited
Assignment: Liu Huijun
Bachelor of laws, National Taiwan University
Shenghua Technology (stock) company reorganization Supervisor
convener
Current Position
Education
Kuang S. Yeh
Chair Professor of Organization Management,
Chung Hua University
President, Fair Winds Foundation
Chairman, Asia Pacific Public Private Partnerships Association (APPPA)
Independent director of Pacific Construction
Corp.
Ph.D., Organization Theory and Policy Analysis,
Carnegie Mellon University, 1990
MPA, Public Finance, University of Delaware, 1984
BA, Political Science, National Taiwan University,
1979
member
Current Position:
Education:
Hao Li Lin
Chairman, Shin Kong Global Venture Capital Corp.
Independent director of Pacific Construction Corp.
EMBA, International Business Management,
National Taiwan University
BS, Electrical Engineering, National Taiwan
University
Chen Hsiung Shen
Chen Hsiung Shen Lawyer
Ph.D., The College of Law, National
Chengchi University